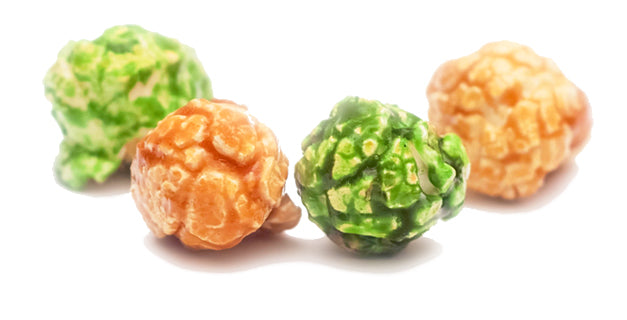 Baron Blend (Caramel Apple)
Caramel & Apple Popcorn - Baron Von Steuben - Baron Blend
Back Label: 
Baron von Steuben, born Friedrich Wilhelm Ludolf Gerhard Augustin von Steuben (September 17, 1730), was a Prussian-born American military officer who served as inspector general and major general of the Continental Army during the American Revolutionary War.

George Washington appointed Steuben as temporary inspector general of Valley Forge in February, 1778. Steuben established standards of sanitation and camp layouts that would still be standard a century and a half later. On May 5, 1778, on General Washington's recommendation, Congress appointed Steuben inspector general of the army. Steuben enforced the keeping of exact records and strict inspections. His inspections saved the army an estimated loss of five to eight thousand muskets.

Steuben introduced a system of progressive training, beginning with the school of the soldier, with and without arms, and going through the school of the regiment. During the winter of 1778–1779, Steuben prepared Regulations for the Order and Discipline of the Troops of the United States, commonly known as the "Blue Book". Its basis was the training plan he had devised at Valley Forge. It was used by the United States Army until 1814, and affected American drills and tactics until the Mexican War of 1846.

Von Steuben died on November 28, 1794, and was buried in a grove at what became the Steuben Memorial State Historic Site in a town named Steuben, New York.

Surprisingly, Steuben never actually came to Fort Steuben. Major John Francis Hamtramck was charged with protecting a group of surveyors and he decided a fort was needed to do so. The site was chosen for a fort on October 11, 1786. Hamtramck named the fort for military officer Baron von Steuben on January 2, 1787, and completed construction January 8. On May 23, 1787, Hamtramck was ordered to evacuate, as the surveyors were by then closer to Fort Harmar. Troops were sent to Fort Harmar, while supplies were sent to Fort Henry in Wheeling. The fort was destroyed by fire in 1790, and not rebuilt.
Ingredients: Apple flavor popcorn (popcorn, sugar, water, pure coconut oil, green apple flavor [dextrose, artificial flavor, malic acid, FD&C yellow #5 (E102), and FD&C green #3 (E143)], corn syrup solids, soy lecithin, cream of tartar), caramel popcorn [popcorn, brown sugar (sugar, cane molasses), butter (milk, salt), pure coconut oil, water, corn syrup solids, molasses, soy lecithin, cream of tartar]
Contains: Milk, Coconut, Soy