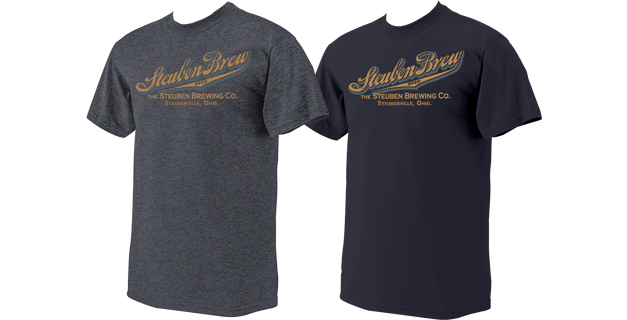 Steuben Brew T-Shirt
Share your local pride with this shirt. This preshrunk t-shirt is available in sizes Small-XXX Large. It is an excellent way to show and share your home!
This Steuben Brew logo was re-created from an old bottle discovered in the attic of a Steubenville Fire Station. Beer brewing was a major industry in Steubenville for much of its history. A local resident established the first brewery in 1815. The Ohio River provided easy access to Wheeling and Pittsburgh, the brewers' major markets. By the 1870s, one brewery in Steubenville produced more than two thousand barrels of beer yearly. The brewers stored the beer while it aged in cellars dug more than one hundred feet into the sides of the hills surrounding Steubenville. During the first decades of the 1900s, the brewers faced opposition from temperance organizations. In 1908, Jefferson County became a dry county. The county government prohibited the sale of alcohol within the county's borders. Local brewers continued to manufacture beer to sell in nearby counties that still permitted alcohol consumption. Many of these businesses suffered financially when Steubenville's eighty bars were forced to close. When the Eighteenth Amendment to the United States Constitution made manufacturing alcohol illegal nationwide in 1919, Steubenville's breweries closed for good.
(T-SPC13)