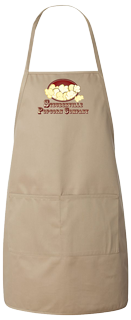 Steubenville Popcorn Company Apron (Natural)
Cook in style with our natural Steubenville Popcorn Company apron! This natural apron is made of 100% cotton canvas. Share your conviction as the cook or give as a gift to a friend, at the same time protecting yourself or a loved one from getting grease splatters or puffs of flour on your clothing while cooking or baking.
These aprons are one size fits all, being 28" long and 20" wide. For carrying around the recipe you are working on, your phone, or other important articles, there are two 7" wide pouch pockets on the front.