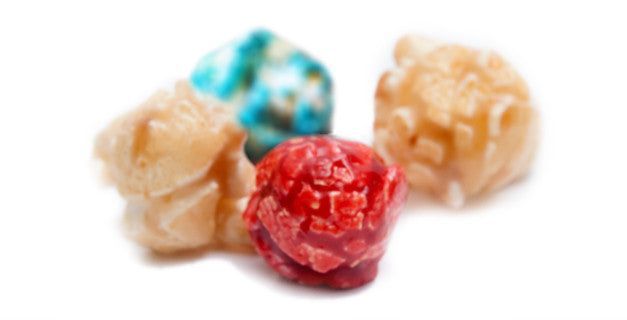 Beautiful Ohio Blend
Blue Raspberry, Cherry, & Vanilla Popcorn -  The Ohio State Flag - Beautiful Ohio Blend
'
Back Label:
Ohio is home to the only non-rectangular state flag in the United States. It was designed in 1901 by Cleveland architect John Eisenmann for Ohio's display at the Pan-American Exposition held in Buffalo, NY. The flag, which is actually a burgee, was officially adopted by the Ohio legislature in May of 1902. Eisenmann modeled the state flag after Civil War cavalry flags. Every segment of the flag was designed to be symbolic of Ohio:
The stripes symbolize the roads and waterways of Ohio, as well as the 5 states made from the Northwest Territory, of which Ohio was first.
The triangle represents the hills and valleys of Ohio.
The white circle represents "Ohio" (as the name starts with 'O') and the red center suggests the seed of the buckeye, the official state tree which gave the state its nickname, 'Buckeye State.'
The stars represent the states of the union - the 13 stars grouped about the circle represent the 13 original colonies that were joined to form the United States and the four stars at the tip of the triangle represent the first 4 states that joined the 13 original colonies in the union (Vermont, Kentucky, Tennessee and Ohio) - to symbolize that Ohio state was the seventeenth state admitted into the Union.
Ingredients: Popcorn, sugar, water, pure coconut oil, corn syrup solids, soy lecithin, cream of tartar, artificial flavor, FD&C Red #40 (E129), FD&C Blue #1 (E133), blue raspberry flavor [dextrose, artificial flavor, FD&C blue #1 (E133)], corn syrup solids, soy lecithin, cream of tartar
Contains: Coconut, Soy