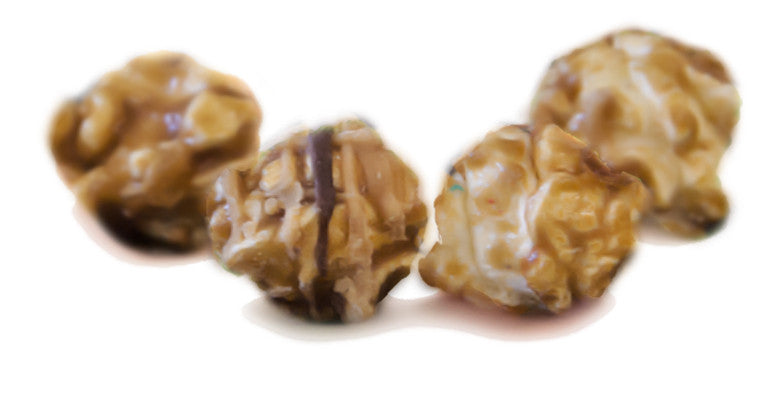 Buckeye Bits
Caramel with Peanut Butter and Chocolate Popcorn - The Ohio Buckeye - Buckeye Bits
Back Label: 
The official state tree of Ohio is the Ohio Buckeye, which stems from the native American Indians, who called the nut "hetuck," because the markings on the nut resemble the eye of a deer. Subsequently, "buckeye" came to be used as a colloquial for people from the state of Ohio for decades before a 1953 act of the Ohio General Assembly even recognized the Ohio buckeye as the official state tree.
National association between the buckeye and Ohio was born during the presidential campaign of William Harrison. Harrison's opponents claimed he was "better suited to sit in a log cabin and drink hard cider. Supporters of Harrison turned this insult into a promotion, dubbing him "the log cabin candidate." They formed his campaign emblem as a log cabin made of buckeye timbers with a long string of buckeyes decorating the walls. Harrison's backers also walked with buckeye canes and rolled whiskey barrels in parades. Ohio has since been known as "the buckeye state."
Ohio State University adopted "Buckeyes" as its official nickname in 1950.
Ingredients: Popcorn, sugar, molasses, pure coconut oil, corn syrup solids, cream of tartar, cream, salt, cocoa butter, partially defatted peanuts, hydrogenated vegetable oil [palm kernel oil, soybean oil], dextrose, reduced protein whey, nonfat milk, milk fat, soy lecithin, natural flavors, fractionated palm kernel oil, milk, hydrogenated palm oil

Contains: Milk, Coconut, Soy, Peanuts